Florence
Many Mediterranean cruises include ports of call along the central coast of Italy, and there are several Tuscany cruise ship tour options you can choose from to see more of this beautiful region and sample its exquisite culture. While Florence is a superb city to visit and one of the most popular cruise destinations in Italy, be sure to consider shore excursions further afield for even more variety and cultural richness.
Assisi
The home of St. Francis of Assisi, these religious grounds are a popular tour stop where guests can see both the interior and exterior of the church. This can become quite crowded, however, so try to schedule an early tour if one is offered by your cruise.
San Gimignano
South of Florence, the ancient city of San Gimignano is famous for its elegant towers, narrow walls, and rich history. Take time to explore this city and the surrounding countryside for incredible vistas and panoramic views.
Boboli Gardens
Beautiful gardens can be found throughout Italy, and the Boboli Gardens in Florence are some of the most exquisite. These gardens not only contain hundreds of luxurious plants, trees, and flowers, but also a wide selection of statues and fountains that show off the best of Italian landscaping and design.
Pisa
The Leaning Tower of Pisa is one of the most well known Italian attractions in Tuscany, but it can also be one of the most crowded. Visit early in the day for a more relaxed experience, or opt for an evening visit after the crowds have thinned and the setting sun creates a rich palette to silhouette the tower.
Italian Dining
Don't visit Italy without taking time to sample its exquisite cuisine, from bruschetta and other appetizers to rich pasta dishes to delicately seasoned meats. Finish off your Italian menu with a sweet ice, a spicy cappuccino, or a decadent piece of chocolate.
David
Michelangelo's David statue is a must-see attraction for every Italian tourist. While the statue was removed from public view for many years, it is now in a protected case and on display in Florence for all visitors to enjoy.
Vineyards
The fragrant, rich bouquets of Italian wine are unforgettable. While you can order from lengthy wine lists at most restaurants, touring a vineyard offers a much wider range of vintages to sample, as well as giving you an intimate look at the mysterious art of producing wine.
Thermal Springs
Visitors interested in a more natural side of Tuscany may want to indulge in the region's many thermal springs and naturally heated pools. The steaming mineral waters are reputed to have soothing and healing powers, and a soak in one of the springs is sure to add a new level of relaxation to an Italian cruise vacation.
Cathedral Tours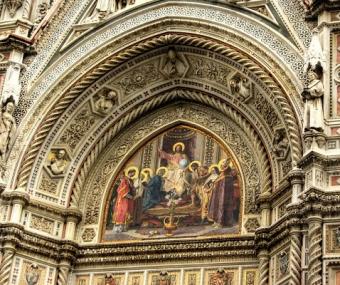 Cathedral visits are popular Tuscany cruise ship tours for many guests. These tours frequently stop at several notable cathedrals with knowledgeable guides who can discuss the art, architecture, and history of the different structures.
Elba
At the southern edge of the Tuscany region of Italy is Elba, a richly diverse island that offers a wide range of shopping and dining experiences for visitors to enjoy. Historical and cultural tours of Elba are also available but vary in duration and depth depending on your cruise itinerary.
Athletic Adventures
More adventurous guests who prefer water sports can sample great surf in Tuscany, and windsurfing and water skiing are both popular on the area's many beaches. Of course, swimming and sunbathing are always available as well.
Enjoy Italy
No matter what Tuscany cruise ship tour you choose or if you prefer to visit the region's sites without organized guidance, if you take the time to sample the beauty of this region, you won't regret what you've missed when the sun sets on your time in this area of Italy.
Interested in more cruise destination details? Check out
cruise ship excursions in Tuscany
for more information, or view different
cruise destinations pictures
for other ports around the world.