Princess Cruise Lines
Princess Cruises is one of the world's most popular cruise lines, offering hundreds of sailings each year all over the world. From modest roots as a small company with one ship sailing to Mexico in 1965, Princess Cruises has grown into the world's third largest cruise line. Princess' popularity really took off in 1977 when the Pacific Princess ship was used in the TV series The Love Boat. The show's global popularity made both the "Sea Witch" logo and Princess synonymous with cruising, and fueled interest in the cruise industry as a whole.
Travelers considering booking a cruise can look at various photos of ships and destinations to decide whether Princess Cruises is the right choice for their upcoming cruise vacation.
All pictures are courtesy of Princess Cruise Line and are used with permission.
Grand Atrium
The Italian piazza-style grand Atrium on a Princess ship is the centerpiece and is where you'll find a variety of entertainers and performers. You can even take a Zumba class as shown here on the Royal Princess. The grand Atrium encompasses multiple stories with a circular marble floor, stained glass dome, and a stunning, floating staircase.
Deck Pools
Multiple pools and spas allow all passengers ample opportunity to keep cool on tropical cruises, or they can heat up in the hot tub on Alaskan itineraries. Princess is stepping up their game with the new Majestic Princess ship and its adult-only Hollywood Pool Club, complete with retractable glass roof, shown here.
Pool hours may vary from ship to ship, and passengers should follow all posted pool guidelines for safe and courteous use.
Princess Destinations and Excursions
Princess Cruises offers cruises to destinations all over the world, including Japan where you can admire beautiful rice fields with Mt. Fuji in the distance. Aside from popular destinations like Alaska, Hawaii, Europe, Mexico, and the Caribbean, look into Asia, South America, Australia/New Zealand, the South Pacific, and even world cruises.
Cruise shore excursions are available in every port of call for all activity levels, from shopping and cultural tours to ATV rides, snorkeling, white water rafting, and more. Look for "intimate" tours with no more than 25 participants, and themed offerings, including exclusive Discovery Channel tours for immersive experiences that can't be booked anywhere else.
Specialty Dining Experiences
While fare in the ships' main dining rooms is always exceptional, passengers can opt for even more gourmet experiences in the other on-board restaurants. For more casual meals, buffets, pizza, and room service are always available. Look for unique "Crafted by Curtis" dishes, created by celebrity chef Curtis Stone, and inquire about hand-crafted specialty burgers by Chef Ernesto Uchimura, chef of the original Umami Burger restaurant and founding chef of Plan Check Kitchen + Bar.
Select ships offer a one-of-a-kind experience called Chef's Table Lumiere, a culinary journey that also gives a very select group of guests a behind-the-scenes galley tour with Champagne and hors d'oeuvres, followed by a multi-course dinner hosted by the ship's executive chef.
Entertainment
Princess Cruises offers a wide variety of entertainment, including Broadway style production shows. Look for exclusive productions like Magic On Board, created by Stephen Schwartz, the Grammy and Academy award-winning composer of Wicked, Godspell, and Pippin. Schwartz also created Born to Dance, pictured here, which was directed by Daniel Levine from Broadway's Mamma Mia! and Les Misérables.
Voice of the Ocean is a spin on The Voice TV show, complete with live performances, blind auditions, professional mentors, and judges. Other entertainment includes poolside movies under the stars, magicians and illusionists, comedians, street performers in the Atrium, live music, and a fun Love Boat Disco Deck Party.
Shopping
Princess cruise ships feature a variety of shops for those interested in doing a little shopping at sea. Enjoy duty free pricing with up to 30% off retail prices. Purchase a variety of goods like leather handbags, fashion jewelry, beauty products, perfume, or sunglasses from brands like Oakley and Maui Jim. If you're looking for high-end jewelry, Princess Cruises has partnered with EFFY Jewelry to create over 5,000 designs that are manufactured in New York City's diamond district.
Beautiful Cabins and Suites
Princess Cruises offers a variety of accommodations, everything from interior cabins to two-bedroom family suites and wheelchair-accessible cabins. Room service is available 24 hours a day. One popular room type is the mini suite, which is bigger than a balcony room and comes with a separate sitting area and sofa bed, premium bathroom amenities, and two flat-panel televisions. Upgrade to the Club Class level to enjoy a variety of upgraded amenities like the Princess Luxury Bed, priority embarkation and disembarkation, one-time complimentary wine set up, evening canapés, terry bathrobes, and special club-class dining.
Casinos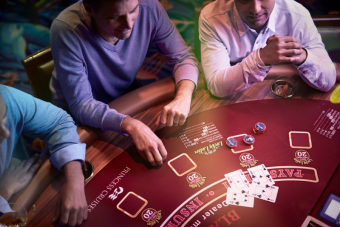 Las Vegas-style gaming is available on Princess cruise ships. Table games include popular versions of blackjack, poker, craps, and roulette. Slot machines and video poker machines are plentiful while others may enjoy trying their hand at bingo.
Wellness Options
Princess Cruises takes wellness seriously with a variety of fitness options while you are onboard. Classes like yoga, Zumba, and tai chi are available. Enjoy views of the water while working out on your own at the Lotus Spa Fitness Center or start your day off on the gorgeous outdoor jogging track. Book a spa treatment at the Lotus Spa or check out the adults only The Sanctuary spa-inspired top deck retreat. You'll find soothing music, refreshing beverages, and spa fare while relaxing on plush lounge furniture.
Kids and Teens
If you're traveling with kids and/or teenagers, Princess Cruises offers something for everyone. Ships feature youth and teen clubs in partnership with Discovery Communications. These activities and clubs are designed for kids ages 3-17. There is also Camp Discovery for kids ages 3-12 that offers different themes and provides plenty of physical activity, hands on experiences, arts and crafts, education, and more.
Bon Voyage!
Princess Cruises offers 17 ships to choose from. They range from the Pacific Princess that provides a small ship experience to the technologically advanced and brand new Majestic Princess. Princess Cruises is also rolling out a new experience with its Ocean Medallion Class ships. These special designated ships will feature MedallionNet Wi-Fi, a renovated port terminal in Fort Lauderdale, and new gaming and entertainment experiences.
With so many luxurious amenities and exclusive experiences, Princess Cruises makes every passenger feel like royalty. No matter what cruise destination you are interested in, visit it in style aboard a Princess cruise.