Singles Party Ship Cruise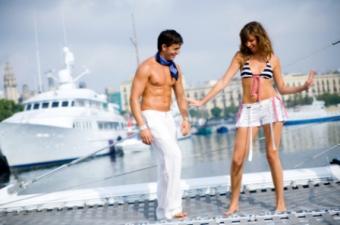 So, just what is a singles party ship cruise? Is it a festive time just for singles? You are not alone in wondering what to expect on a cruise for singles; thousands of singles are novice cruisers each year but learn quickly what a great atmosphere a cruise ship can be for having fun.
Defining a Singles Party Ship Cruise
Perhaps the best way to start is to focus on the beginning -- the very cruise line that brought about the debut of singles cruises. With the TV show The Love Boat, Princess Cruises was the first line to popularize cruising for singles. This line has many activities including nightly Vegas-style entertainment, dancing, lavish meals, and singles mixers. A singles host is also part of the cruise staff, organizing daily events.
If you're looking for a roommate to cut costs, their Match Program can pair you with a same-sex single in one stateroom. If you prefer the privacy of your own stateroom, single-occupancy cabins are also available at the single-supplement rate. Roommate matching is provided upon request as a courtesy to clients who confirm their reservations at least 70 days before departure. Chat-rooms for those going on your cruise are available so that you can get to know some other singles before the cruise departs.
Many cruise lines have couples and children on board, so seldom is a cruise only made up of singles. However, if you have specifically booked a cruise that has singles, you will know that there will be others like you, wishing to meet other singles and have a good time.
These ships have parties just for singles early on, so that you can immediately, upon boarding, become involved with getting to know others like you.
Most Popular Singles Party Ship Cruises
In 2006, the following received the awards for the most popular party cruises for singles:
7 Night Exotic Western Caribbean Halloween Cruise
Sail from Miami to Grand Cayman, Roatan Island (Honduras), Belize and Costa Maya. Cost is from $849 per person.
8 Night Mexican Riviera Halloween Cruise
Sail from San Diego to Acapulco, Zihuatanejo/Ixtapa, and Manzanillo. Cost is from $799 per person.
8 Night Exotic Western Caribbean After Thanksgiving Cruise
Sail from Fort Lauderdale to Costa Maya, Costa Rica & Panama. Cost is from $749 per person.
4 Night Western Caribbean New Years Cruise
Sail from Miami to Key West and Calica, Mexico. Cost is from $799 per person.
Preparing for Your Cruise
Before leaving home, ensure you have all the proper documentation required to travel. Without appropriate documentation, you may be denied boarding of your flight or cruise. All travel documents are your responsibility. In addition to carrying your cruise documents, passage contract, passport and other required travel documents, you should also bring your medical insurance cards and travel protection plan. These items should be with you and not in your checked luggage.
What to Pack
Clothing should be comfortable, casual, and cool. Dinner attire is based on the dress code of each ship, though many cruise ships offer formal nights for passengers to splurge. A sweater or jacket for cool evenings is recommended. Shoes with rubber soles for strolling on deck as well as comfortable walking shoes or sandals are nice to have, too.See Weather.com for the latest weather information on the region you are visiting so that you can pack accordingly.
Activities on Board
Cocktail parties
Single-mingle dining
Mixers
Games
Karaoke Nights
Dancing
Amenities depend on the size of the liner. However most, and especially the ships that carry 1,800 passengers, have the following:
Therapy room
Spa
Pool
Bars
Restaurant(s)
Piano bar
Movies
One more point of interest is that many ships have Gentleman Hosts. It's not uncommon for women passengers to outnumber the number of men on board. As a convenience to these ladies, many cruise lines have a number of designated Gentlemen Hosts--retired men from other careers, whose job is to attend every social function on board, host dinner tables, and dance whenever the music starts so that the single women always have a dance partner.
The hosts are carefully screened as dancers and conversationalists before they are allowed to wear the dinner jackets and name tags that identify them. They never dance with the same partner twice in a row and they are not to get too personal.
Destinations
You itinerary will determine which port the cruise ship will leave from. The cruises headed to the Bahamas and other Caribbean ports, often leave from Ft. Lauderdale, Miami, or other Florida ports.
Alaskan cruises and Hawaiian cruises typically depart from the West Coast, particularly Seattle, Vancouver, San Diego, and Los Angeles.
Other cruise destinations include:
Europe
Mexico
Asia
New England
Africa
Central America
The length of the cruise, again, depends on where you are going. It can be a just a few days for a weekend cruise or up to 110 days for world cruises, though many more options are available ranging from 5 to 7 days.
---
Get ready to have fun! Your singles party ship cruise will be an experience like none other -- and after the sailing is over, you may have developed new friendships with other singles.