Night Cruising
The fun doesn't stop when the sun goes down at sea. In fact, the night life on cruise ships can be even more energetic and enjoyable than the dozens of activities scheduled during the day. From fantastic food to blockbuster shows to high stakes gambling, there are many ways to have a great time on a cruise ship after dark.
Start With a Sunset
A fun-filled cruise evening starts with a glorious sunset. The beauty of the waves as the sun sinks into the uninterrupted ocean is a sight that can only be found at sea, so take the time to enjoy watching this evening occurrence at least once during your cruise. For many couples, this can be one of the most romantic moments of their vacation.
Bottoms Up
The bars are open on board at night, and a wide range of different types of drinks make sampling the libations a fun activity every night. Some cruise ships even schedule alcohol-themed events, such as a specialty martini bar menu, trick pouring, and liquor sampling.
Revue Shows
Nightly performances in the ship's main lounge are a staple of any cruise vacation. Music, dancing, singing, and creative costumes are all a part of the revue shows, and each night the performances are different to keep audiences coming back for more. There may be several sittings of each performance, depending on the size of the ship and the dining arrangements, so check your daily schedule for details.
Hit the Tables
Cruise ships make a lot of money from their floating casinos, but many passengers also win big at the tables and slot machines. Slot tournaments, poker events, and even gaming tutorials for novice players are all available at night.
All Night Dining
Midnight buffets are a popular feature of many cruise vacations, and the menu can vary from simple cold cuts, fruits, and other finger foods to an all-chocolate or dessert buffet or themed arrangements such as a Mexican buffet or sundae bar. Even if you aren't hungry, these buffets are typically lavishly arranged and decorated, making them a feast for the eyes as well as the palate.
Stargazing
Stargazing is incredible from a cruise ship at sea. It is far from the light pollution of cities and the obstructions of buildings and trees. Take a stroll on one of the ship's more deserted decks and let your eyes adjust for the best view. Some ships even offer nighttime stargazing activities for astronomy enthusiasts on board.
Karaoke
Karaoke contests are popular evening and nighttime activities on cruise ships. Signups may be required to ensure your spot. It's easy to get your fifteen minutes of fame in the ship's karaoke bar.
Sailing Scenery
Depending on where your ship is sailing, the nighttime scenery can be outstanding. River cruises, in particular, offer phenomenal views of city skylines glittering in the night. Another memorable sight is when one cruise ship passes by another in the dark of the night, when both are lit up like the floating cities.
Clubbing
Most cruise ships feature at least one dance club and while it may be empty during the day, it can be one of the hottest spots to be at night. Different music themes, from country tunes one night to retro tunes the next, keep the clubs hopping night after night. Parents should note that most dance clubs on cruise ships do have age restrictions and children are not permitted, though there are usually youth dance parties earlier in the evening or at different locations.
Performers
In addition to revue shows featuring talented casts of singers and dancers, cruise ships frequently host other performers including comedians, magicians, jugglers, ventriloquists, impressionists, and more. These performers may offer a family show in the evening and more risqué adults-only show at night.
Sweet Dreams
Of course, you want to be sure to get a good night's sleep while on a cruise so you don't miss out on the next day's activities. If you will be in port, shore excursions can start before 8 a.m., and even at sea activities such as trivia contests, fitness classes, and spa treatments can start early. Enjoy the ship's nighttime activities, but be sure you are refreshed for the next day!
Always Fun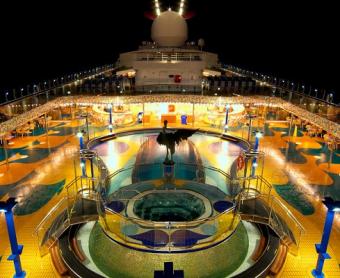 Day or night, it's always fun to be on a cruise and there is always something to do. From fine food and drinks to world class entertainment to a range of different activities, there will always be something every passenger can enjoy at any hour of the day or night.
Now that you know what to do on a ship at night, check out these
cruise destinations pictures
so you can prepare for exciting and exotic ports of call! Bon voyage!