Hawaiian Cruises are an excellent way to see the islands without checking in and out of hotels, waiting at airports, and constantly packing and unpacking. On a Hawaiian cruise, you simply wake up at the next island -- no stress, no hurrying about, and more time to spend enjoying your vacation. Norwegian Cruise Lines offers regular seven-night Hawaiian cruises departing Honolulu and including stops at Kauai, Oahu, Maui, and the "big" island of Hawaii as well as longer cruises that include overnight stops at some islands and multiple ports at others. Several other cruise lines, such as Holland America Line and Royal Caribbean Cruise Lines offer periodic Hawaiian cruises from the west coast of the United States. These cruises are, generally, repositioning cruises, that is, cruises that take a ship from one part of the world to another. Because of the distance between the continental United States and Hawaii, cruises from the west coast are between ten and fourteen days in length.
Hawaiian Cruises: the Ports
The island of Oahu is home to Honolulu, the capital and largest city in Hawaii. Attractions there include the world-famous Waikiki Beach, the Arizona memorial at Pearl Harbor, and the Polynesian Cultural Center, a fascinating village highlighting seven of the different cultures that combined to populate the Hawaiian Islands. In addition, visitors to Oahu can play some of Hawaii's most challenging golf courses, sample a traditional luau feast, and shop for island fashions, teak products, and, of course, Kona coffee.
Kauai, Hawaii's "Garden Isle," is lush, scenic, and relaxed. The island's north shore has been the featured in numerous movies, including South Pacific. The sunny south shore is home to Poipu Beach, site of many of the island's luxury resorts. Nature lovers will want to visit Waimea Canyon, a smaller, but just as scenic, version of the Grand Canyon. Also not to be missed is a flightseeing helicopter tour of the remote Napali Coast, with its rugged, wooded peaks and small cove beaches, inaccessible by land.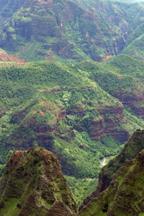 The "Big Island" of Hawaii, is diverse. It boasts black lava beaches, two active volcanoes (and the fascinating Volcanoes National Park), lovely orchid farms, and even a winter ski resort.
Maui offers visitors the chance to tour the 19th century restored whaling village of Lahaina, hike or bike from the top of Mt. Haleakala, see the scenic waterfalls on the road to Hana or relax on one of the many long, white sand beaches.
Shipboard Life
Shipboard life on Hawaiian cruises tends to be more relaxed than on their Caribbean or European counterparts. Generally, evening dress is casual. No formal wear required. Onboard activities include many Hawaiian cultural offerings, such as lectures about the islands, hula lessons, and Hawaiian cooking demonstrations. Hawaiian music is featured in the ship's lounges and restaurants and local cuisine, with lots of delicious fresh produce, is favored.
Booking Hawaiian Cruises
Booking an Hawaii cruise is best handled by a cruise specialist. These travel professionals can help you sort through the myriad of specials and different pricing, airfare add-ons, and pre and post-cruise packages. Generally, a cruise specialist does not charge for her services. She is compensated by the cruise line.