Hawaii Sunset Dinner Cruises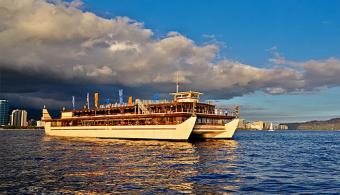 While visiting Hawaii as a tourist or celebrating a local special occasion, few things are more romantic than a sunset dinner cruise. From large catamarans to tiny glass bottom boats, each island offers a different experience. These trips are a relaxing way to celebrate the beauty of Hawaii, a true pacific paradise.
Waikiki, Oahu
Each Friday evening around 7:45 pm the Hilton Hawaiian Village hosts a 10 minute fireworks show on Waikiki Beach. In order to take advantage of the view, several companies offer hosted dinner sailings around the Honolulu harbor.
Alii Kai Catamaran
Visitors to Waikiki can enjoy the Alii Kai Catamaran dinner cruise operated by Roberts Hawaii, an employee-owned company. The trip includes transportation to the departure point at Aloha Tower on pier five. Guests board an oversized catamaran called Ruler of the Sea, which holds up to 500 passengers.
The two hour journey is filled with music, dancing and a dinner prepared with fresh, local ingredients and island fruits. This large vessel has three levels, and hosts a Polynesian show, dance floor, and observation deck. Adult tickets are just under $100 per person, while kids sail for around $70. Discounts are available for booking online.
Upgrades are available, including additional fees for premium window seating, which has the best ocean views. They also offer an alternate dinner, a Hawaiian clam bake called Hukilau, for an additional fee.
Star of Honolulu
The queen mother of all Honolulu dinner cruises is the top rated Star of Honolulu. Operated by Star of Honolulu Cruises & Events for more than 50 years, this 1,500 passenger vessel offers daily cruises departing from Pier 8 at Aloha Tower.
Of the over 400 reviews of this cruise on the US Trip Advisor, more than 300 of them boast four and five star reviews, with reviewers complimenting the service, entertainment and food. Reviews vary from Oahu locals using this trip to celebrate special occasions to newlyweds and overseas tourists visiting the islands.
This two hour trip along the Waikiki coastline is available in four different tiers of dining. They offer summer and fall menus for each tier:
The top notch treatment is a five-star, seven course French style dinner and three premium beverages served at a private table. It includes pampering touches like a pre-sail reception with the captain, after dinner drink service and live jazz on a private lanai. The going rate is almost $200 per person, but signing up for email special offers is rumored to net 2-for-1 ticket specials throughout the year.
The 3-star treatment features a whole Maine lobster and steak dinner with two beverages included. This ticket also includes a full dinner show for about $140 per person.
Guests can choose the Star Sunset Dinner & Show package. It includes a crab and steak dinner, a Hawaiian Mai-tai and the show for just under $100 each.
The most affordable dining selection is a roast beef buffet for $89 per person. This option includes access to the full buffet, a Mai-tai and the dinner show.
Upgrades abound, including celebration and wedding receptions, specialty cakes, photos and wine packages.
The Big Island
Hilo
Due to the frequency of rain in this port of call, Hilo does not currently have a hosted dinner cruise.
Maui, Hawaii
Lahaina Cruise Company
In addition to day tours and snorkeling trips, the Lahaina Cruise Company hosts a dinner sailing each evening onboard the 120 foot yacht the Maui Princess. The ship sails a two hour loop around the calmer west coastline of Maui harbor.
This low-key sailing includes a prime rib dinner, three beverages and a DJ hosted dance floor. Shuttle service and premium seating are both included in the price of the ticket. Adults sail for under $80 and kids under $60 per person. The Lahaina Cruise Company uses proceeds from these sailing to fund the Hawaii Ocean Project whale research.
Pacific Whale Foundation
In a similar vein, the Pacific Whale Foundation offers a dinner cruise on the Ocean Discovery. This cruise departs from the Lahina harbor and includes a two hour tour with a four course dinner and three drinks.
Their blog called Making Waves highlights the field reports and conservation efforts these sailings fund. Tickets average just under $90, but foundation members save 20 percent and memberships start at just $50 per person. Upgrades: Premium seating, Christmas and Thanksgiving sailings.
Kauai, Hawaii
Blue Dolphin Tours
The Na Pali Coastline sunset dinner tour is a unique sailing hosted by Blue Dolphin Tours. This tour offers a four hour round trip on a 65 foot catamaran complete with a luau-style buffet with drinks and a champagne toast at sunset. The views of the coastline, cliffs at sunset are a once in a lifetime experience. They offer a bridge photo op dubbed the Titanic which is a must have for the Hawaiian trip album.
Prices fall at the $100 per person range when booked online in advance.
Captain Andy's
If upscale is more your speed, Captain Andy's has been sailing this coastline since 1980. Their sunset cruise departs from Port Allen Harbor in Ele`ele and is dubbed the "premier 'dinner with a view' experience". The four year old Southern Star has a full galley for preparing meals while in route instead of relying on precooking entrees. This sailing is four hours and features a steak and shrimp dinner and complimentary cocktails. The signature drink not to be missed is the "sneaky tiki." While onboard, guests can lounge in large shady cabin areas, on-deck seating and oceanfront dining.
The $139 per person price tag is worth every penny. This company was voted best Kauai boat tour in 2012 by the local newspaper, the Garden Island. This particular trip is also a Trip Advisor 2013 certificate of excellence winner.
Other Considerations
Dressing for Dinner
When boarding a boat for an evening of fun, what do you wear? While most of the cruises do not have strict dress codes, they do recommend layering due to Hawaii's ever changing weather conditions. Sometimes the evening can be cool or breezy so a light wrap, sweater, or jacket is recommended. Check with the tour company for specific dress recommendations.
What to Bring
Along with your Aloha spirit, be sure to bring a picture I.D. for alcohol consumption. Alcohol cannot be served to anyone under the age of 21. Don't forget a camera with a flash. If the cruise requires reservations, be sure to bring a confirmation number or receipt for easy check-in.
Memorable Hawaii Adventure
Dinner cruises are beautiful and highly affordable way to enjoy the spirit of the islands. With so many to choose from Hawaii's natural beauty can become part of a memorable cruise. A sunset cruise will be remembered for years to come. It can be a highlight of your overall vacation experience or provide a perfect way to cap off the celebration of a special occasion.