Grand Cayman is the largest of the Cayman Islands and the one most frequently called on by different cruise ships. Unlike most Caribbean ports of call, Grand Cayman has relatively few natural attractions, but the island's exclusive, upscale lifestyle and exquisite shopping opportunities make it an attractive destination for thousands of visitors each year.
Five Cruise Options
There are a number of options for cruising to Grand Cayman. From an upscale luxury liner to family fun on a budget, you're sure to find a cruise that's perfect for you.
1. Carnival Cruise Lines
Eleven of Carnival's 23 ships cruise to the Caymans at some point, which is more than any other line. With more than 50 sailings, it's easy to find the right Carnival itinerary that includes Grand Cayman's popular port. One standout is the Carnival Breeze, which launched in 2012 and is also the largest ship built for Carnival. Based in Miami, the newest 130,000-ton Dream-class ship offers six-night Caribbean Sea adventures with a day in George Town, Grand Cayman.
Carnival Breeze
Rates begin as low as $249 per person, based on double occupancy, plus additional tax and port charges. Carnival Cruise Lines frequently leads the pack for lowest pricing, with some of the most wallet-friendly sailings for cruisers of all ages.
Some sailings are part of the Carnival LIVE Concert Series, which brings Smokey Robinson, Rascal Flatts, and other musical artists onboard to perform. Just be aware that show tickets are available at an additional cost.
Carnival Breeze's onboard features include:
Carnival WaterWorks, the ship's water park, which features water attractions and a 320-foot-long Twister Waterslide
Eateries such as a Guy Fieri Burger Joint and Bonsai Sushi, the line's first full-service sushi restaurant
Hasbro, The Game Show, an interactive stage version of popular games like Connect 4 Basketball and Yahtzee Bowling

The line's first Thrill Theater, a multi-dimensional special-effects experience
2. Royal Caribbean International
Royal Caribbean has nine, action-packed ships that visit Grand Cayman, including the line's newest, Anthem of the Seas, which is scheduled to set sail from her home port of Cape Liberty, New Jersey in April 2015.
Anthem of the Seas
Anthem's 12-night Western Caribbean sailing spends one day in George Town from 8:00 AM to 4:00 PM before heading on to spots like Roatan, Honduras, and Mexico. Cruise fares start around $1,470 per person based on double occupancy for an inside stateroom, not including taxes.
Anthem will make quite a splash in the cruise market with many never-before-seen features, including:
RipCord by iFLY, the first skydiving simulator at sea
North Star, a glass-enclosed observation capsule
The largest indoor sports and entertainment complex at sea called Seaplex, which features bumper cars, roller skating, a basketball court, circus school, and more

Larger, more advanced staterooms, including the industry's first virtual balconies
3. Celebrity Cruises
Celebrity Cruises caters primarily to adult travelers looking for relaxation; think of lounging and pampering as priorities here, with a top-of-the-line spa and art classes as unique amenities. Celebrity has five ships in the line that sail to Grand Cayman from Ft. Lauderdale or Miami. The newest, Celebrity Reflection, came along in 2012 and offers seven-night Western Caribbean sailings from Miami.
Celebrity Reflection
Reflection's rates start around $700 per person based on double occupancy, plus taxes and port charges. The day in Grand Cayman is generally 10 a.m. to 6 p.m. in George Town, sandwiched between stops in Cozumel, Mexico, and Ocho Rios, Jamaica.
Guests with a taste for luxury will love the latest features on Celebrity Reflection, such as:
Three new suite categories, including the first AquaClass Suites in the fleet, which featuring 79 square-foot verandas
New spa innovations in the enhanced Canyon Ranch SpaClub
Outdoor grilling at the new Lawn Club Grill, an interactive open-air restaurant where guests can cook with the chef over custom-built, ventilated grills
More seating in the main and specialty restaurants, more sun lounges on the pool deck, and more seats in the theatre
4. Norwegian Cruise Lines
Norwegian, known for introducing 'Freestyle Cruising', has four ships that call on Grand Cayman, including the line's latest, the Norwegian Getaway, which launches her inaugural season November 2014 from Miami.
Norwegian Getaway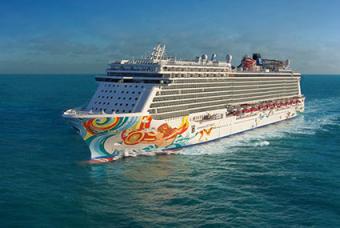 Recognized as the 2014 Bon Voyage Magazine Editor's Choice for best new ship, Getaway's seven-day sailings stop in George Town on Grand Cayman for one day from 8 a.m. to 4 p.m. Cruise fares start just over $700 per person based on double occupancy, plus tax and port fees.
Getaway is sure to impress with new features, such as:
28 restaurants and dining outlets, which include seafood eateries by celebrity chef Geoffrey Zakarian
No less than five staggering water slides, which are part of the ship's Aqua Park
Sports Complex complete with rock-climbing wall, basketball court, 100-foot zipline, and "the largest multi-level rope course at sea"

A sensational fireworks show on every Norwegian Breakaway cruise
5. Princess Cruise Lines
Princess Cruise Lines has six ships that visit Grand Cayman on itineraries that last from four to 14 days. This includes the newest arrival in the fleet, Regal Princess, which begins her Caribbean cruise season November 2014. The 3,600-passenger ship and sister Royal Princess are currently the largest in the line.
Regal Princess
Regal Princess spends a day in the port of Grand Cayman, typically from 7 a.m. to 4 p.m. Cruise fares begin around $750 per person based on double occupancy, not including taxes and port fees.
All-new Regal Princess highlights include:
An expanded atrium with impressive entertainment and casual dining options
The line's largest Movies Under the Stars screen
The new over-water SeaWalk, a see-through, glass-enclosed walkway that offers guests a view of the ocean 128 feet below
Balconies on all outside staterooms
Arriving in Grand Cayman
Grand Cayman rests amidst extensive coral reefs, which makes it impossible for cruise ships to dock at the island. Instead, Grand Cayman cruises anchor offshore and tenders (ferries) transport passengers to a small pier on Harbour Drive, in the midst of George Town's extensive shopping district. Larger ships must anchor further away from the island, but the tenders are generously sized, and passengers typically do not need to wait long before being accommodated.
One note about Grand Cayman's visitation policies; due to the influence of the island's religious community, as well as its notable conservatism, cruise ships are not permitted to visit on Sundays or prominent religious holidays. Most cruise lines simply adjust their schedules to accommodate this restriction, and there are many itineraries available that include Grand Cayman the rest of the week.
Necessary information about Grand Cayman:
English is the official language.
The Cayman Islands dollar is the official currency, but U.S. dollars are commonly accepted. U.S. dollars are typically a higher value, so be certain which currency is quoted for a particular price.
As a British island, you'll need to drive on the left if you choose to rent a vehicle.
Cruise Ship Shore Tours in Grand Cayman
Most shore excursions in Grand Cayman revolve around the crystal-blue waters. Snorkeling, glass-bottom boat rides, sailing, and beach excursions are among the most popular activities. The Atlantis Submarine tour is an especially popular choice that features a submarine dive where the automatic feeder attracts dozens of colorful tropical fish throughout Grand Cayman's delightful reefs. Historical highlight tours are an enjoyable alternative for passengers who wish to stay on land; most tours include the same basic sights, but they may vary in the amount of time spent at each one.
Grand Cayman Cruises: Sightseeing
The pier where the tenders dock is in the heart of the island's shopping district, and savvy shoppers will find numerous fine retailers that sell linens, jewelry, clothing, and other elite goods. For visitors who desire more unusual sights, Grand Cayman's most popular attractions include:
Necessary Precautions
Due to the large preponderance of elite banks on Grand Cayman, tourists need not worry about pushy vendors or insistent salespeople as much as on other Caribbean islands. Shopping is plentiful, but be aware that turtle products (polished shells, etc.) are not permitted into the United States. Visitors who elect to take an organized tour should note that many attractions are crowded, and tour guides are not exceedingly generous to overdue patrons.
Enjoy Grand Cayman's Unique Features
Grand Cayman is a delightful Caribbean gem, nestled amidst turquoise waters and white sand beaches. Although it lacks many highly-organized tourist attractions, cruise passengers will delight in the unique features the island offers, as well as its unspoiled quality of life.