Crystal Cruise Lines, most commonly known simply as Crystal Cruises, is a luxury cruise line initially established as a subsidiary of Nippon Yusen Kaisha, a Japanese shipping company. Since 2015, it's been part of Genting Hong Kong, which owns Star Cruises and a majority of the shares in Norwegian Cruise Line Holdings.
Crystal Cruises Fleet
Currently, Crystal Cruises only has two main ships, the Crystal Symphony and Crystal Serenity. Crystal Harmony served in the fleet from 1990 to 2006. They are scheduled to take delivery of three new Executive Class (Polar ice-class) ships starting sometime after 2019. They are also taking delivery of the Crystal Endeavor, a PC6 Polar Class yacht, sometime in 2018.
Mid-Size Ships
Their current ships are considered "mid-size," which can carry only about 600 to 1,600 passengers. This can be a plus where the market is trending towards giant ships with every amenity possible. While some people subscribe to the "bigger is better" model, not all cruisers want to be stuck on a mega-ship.
Crystal Cruises ships easily accommodate between 940 and 1,080 passengers. The largest vessel, Crystal Serenity, is more than thirty percent larger than its sister ship Crystal Symphony, yet it only accommodates fifteen percent more guests, making it the roomiest of the two.
In the Berlitz Complete Guide to Cruising and Cruise Ships (2011 version), author Douglas Ward discusses that mid-size ships have their pros and cons, but the pros tend to outweigh the cons. Ward notes:
Facilities often strike a nice balance as the ships aren't too big and aren't too small, and they are easy to get around.
They tend to sail well in bad weather, unlike some of the giant resort style ships and they don't have a shallow draft like small ships. They also look more like traditional ships and less boxy than the largest ones.

However, they may not have as wide of a range of public rooms and facilities as compared to the large resort ships, and entertainment tends to be more cabaret style, unlike the large-scale production shows found on bigger ships.
New Suite Designs
The ships are undergoing updates that will see both ships undergo suite capacity increases. Updates include:
Crystal Symphony (completed): New guest capacity 848 (from 922), 12 new suites, 28 new penthouses, guest to space ratio of 60.2, total suite capacity increase of 63%, two new suites (Seabreeze Penthouse Suite with Verandah and the Seabreeze Penthouse)
Crystal Serenity (2018): New guest capacity 980 (from 1,070), two new suite, 36 new penthouses, guest to space ratio of 70.3, total suite capacity increase of 6%, new Penthouse Suite with Verandah and Penthouse with Verandah
What's Included
Crystal Cruises offers an all-inclusive cruising experience with complimentary fine wines and premium spirits, and complimentary gratuities for housekeeping, bar, and dining staff, including specialty restaurants and in-room dining service staff. Crystal Spa & Salon services are extra and don't include gratuities.
Butler service is available to guests in certain categories of rooms. Their services include things like unpacking and packing, complimentary pressing, shoeshine, reservations at specialty restaurants and for shore excursions, spa appointments, and more.
Included in onboard entertainment are high-tech classes like University@Sea computers and software, and Digital USC School of Cinematic Arts Digital Filmmaking. Some cruises are themed with a focus on music, film and theatre, wellness, or golf.
Access to the gym with fitness classes, golf lessons, and steam room and saunas is also included.
Itineraries
Because the line caters to a more upscale crowd, Crystal Cruises are typically seven to 15 nights in duration. Itineraries include:
New England scenic voyages
Eastern, southern, and western Caribbean options
Exotic options in Africa, the Amazon, and the Middle East
Prices vary based on itinerary, but a seven-day cruise from Quebec to New York City starts at $2,235, while a 14-day Mediterranean adventure from Lisbon to Rome is $5,190 and up. Special holiday cruises like a 16-day Christmas and New Year's round-trip cruise from Cape Town starts at $5,095.
Onboard Activities
Cruise activities aboard Crystal Cruises are more active than other luxury lines, with many passengers preferring to mingle with their fellow travelers rather than pursue sedentary activities.
A wide range of enrichment programs are offered, including computer classes, glass-etching, piano lessons, fashion shows, swing and rumba dance lessons, and guest lecturers well-versed in diplomacy, history, or film. This cruise line also arranges dozens of themed cruises each year, with topics ranging from food and wine to jazz and language. Optional formal nights are well-received on each voyage.
Dining Options
The diverse dining options make meals a treat on Crystal Cruises. Asian, Italian, vegetarian, low-carb, and light selections are all available. Themed luncheon buffets provide delicious diversions for more casual meals, while the gala buffet is a regal, decadent event. All non-alcoholic beverages are complimentary, including cappuccinos, soda, and bottled water. Crystal Cruises also offers a limited number of certified kosher meals on each cruise. Contact them when booking your trip to discuss options for those wanting only kosher dining options.
Crystal Cruises features an extensive wine cellar, with more than 300 vintages, including a very special reserve list that includes rare vintages like Screaming Eagle and Chateau Lafite Rothschild. In their Vintage Room, you can arrange private dinners as well with a minimum of 10 guests. If you are an oenophile, inquire whether there are any scheduled "Ultimate Vintage Room Dinners." These include an eight-course French meal paired with extremely rare wines, including a 1959 Chateau Lafite Rothschild, Pauillac, Bordeaux, and a 1996 Screaming Eagle, considered its best year, for around $1,000 a person.
As of October 21, 2017 aboard Crystal Symphony and November 10, 2018 aboard Crystal Serenity, the Crystal Dining Room will be renamed Waterside and will feature open seating.
Specialty Restaurants
Each ship offers alternative reservations-only restaurants for a nominal charge. Specialty restaurants like Chef Nobu Matsuhisa's only sea-going restaurant feature high-end tablescapes like Schott-Zwiesel crystal, Villeroy & Boch and Wedgewood china, Royal Doulton dishware, Sheffield and Sambonet flatware, and table linens by Garnier Thiebaut and Frette.
As of 2014, Crystal Cruises changed the specialty dining system so that all guests get a choice to dine in at least one of the specialty restaurants. Each stateroom/suite can book one complementary reservation per voyage in Prego, and one in Silk Road or The Sushi Bar. For those wishing to dine again at one of these restaurants, it's on first come, first serve basis for a fee of $30 per person, per dining experience.
Fees may be waived in certain cases, like guests who are on back-to-back cruises will get one reservation in Prego and one in Silk Road or The Sushi Bar on each voyage, and guests on 14 day or longer itineraries will be given two complimentary reservations in each restaurant.
Entertainment and Excursions
A variety of shows are available aboard Crystal's ships, from the Vegas-style revue shows common aboard mainstream lines to classical concertos, comedy acts, and first-run movies. Ballroom dancing is a popular evening event, with gentlemen hosts on hand to partner unaccompanied women who wish to dance the night away.
The signature cocktail and piano bar is a popular place to hang out, while the cigar lounge offers a relaxing place for people to enjoy a wide selection of cigars. A dance club plays the latest hits and older favorites. Want to catch a movie? The on-board theater offers recent release and older classics presented in Dolby sound and even multi-lingual translation systems.
Excursions are specialized and vary from the standard options you find on other cruise lines. Options might include making pasta in a private Tuscan home or trekking through rainforests in Costa Rica. There are private and boutique adventures you can book as well that give you even more intimate and exclusive experiences. These might include something like a cooking lesson a Michelin-starred restaurant in Sorrento or a rhino conservation experience in South Africa.
Spas and Fitness
For more active activities, many passengers turn to the shuffleboard courts, ping pong tables, jogging tracks, and putting greens for a workout. For more formalized exercise, free aerobics, Pilates, and yoga classes are available, and the ships' gyms overlook the ocean for inspiring views while working up a sweat.
The cruise line acknowledges, however, that relaxation is just as much a part of fitness as a higher heart rate, and the onboard spas host many Feng Shui features such as calming incense, crystals, gurgling fountains, and mirrors to foster inner peace and tranquility. Medi-spa services are offered onboard now too, which includes options like target wrinkle treatment, dermal filler treatment, and Thermage CPT, all designed to help reduce signs of aging and improve the skin's condition.
Gambling
The onboard casinos are roomy yet understated, letting passengers indulge in games of chance without feeling overwhelmed by noisy and garish stimuli. Games include blackjack, craps, roulette, poker, mini-baccarat (on request), as well as slot and video poker machines.
Smoking and Drone Policy
Guests who want to smoke on their balconies may find the smoking policy a bit restrictive, as only several dedicated places are designated for smokers, including those using e-cigarettes.
While some travelers want to bring drones and they may be legal in some destinations, Crystal Cruises requires that you surrender all drones to the Captain at embarkation, and that they be kept in storage until your final disembarkation.
Traveler Reviews
While most reviews of Crystal Cruises are glowing, a few things of note that Fodor's Travel pointed out are the lack of ample staterooms with a third berth for families, the difficulty of securing reservations for some of the specialty restaurants, and the "clubbiness" of repeat passengers can be off-putting to new Crystal cruisers.
Crystal Cruises offers complimentary shuttles into town at many of the ports, which may be a way to save money if you want to go wander down independently. As one reviewer pointed out the excursions were expensive, but the value received was worth it.
Crystal Yacht Experiences
Crystal Cruises also has the Crystal Esprit, a yacht that holds 62 guests in suite, butler-serviced accommodations. Crew members on the yacht are hand-selected from Crystal Cruises' best, along with other boutique hospitality venues. Crystal Esprit's dining rivals that of Michelin starred-dining, yet served in casual, open-seating venues.
Suites are 280 square feet, larger than most deluxe staterooms on the bigger Crystal ships. The Owner's Suite is similar in size to the penthouse suites on the other ships.
Yacht Itineraries
The Crystal Esprit is returning to the Adriatic Sea for 2018 and 2019 with a variety of six-to-eight-day adventures starting in either Venice, Italy, or Dubrovnik, Croatia in 2018. For 2019, there are a variety of options, including Rome to Dubrovnik, Athens to Dubrovnik, and Athens round trip. Cruises start at $5,880 per person.
Dress Code and Suite Amenities
Dress code on the Crystal Esprit is "Crystal Yacht Casual." This is defined as comfortable, stylish attire that includes tasteful swimming attire and shorts and similar yacht/resort wear during the day. For evenings, the dress code is defined as "elevated fashionably chic."
Amenities on the yacht include bathrobes, slippers, a hair dryer, ETRO soap, body lotion, shampoo, and conditioner. Both 110 and 220-volt outlets and USB ports are available as well as a bedside iPad that runs all your electronics, lighting, shades, and alarm for your suite. Each of the 31 suites features 42" HD ultrathin TVs and free unlimited Wi-Fi.
Bringing Guests on Board
Unlike larger cruise ships, a unique feature of Crystal Yachts is the ability to bring aboard visitors in some instances. Make requests through the proper department at least seven days in advance.
Onboard Amenities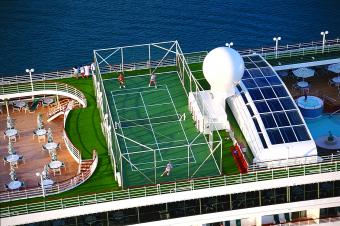 Unlimited premium fine wines, spirits, and beverages are included, and the self-service bistro, wine, coffee, light snacks, and pastries are offered around the clock.
There is a dedicated fitness center and a state-of-the-art marina and water sports platform at the stern. Enjoy a variety of free water sports equipment like:
Water skis
Wakeboards
Paddleboards
Ocean kayaks
Jet skis
Zodiacs
Snorkel equipment
Free style cruiser free style pool
There is also a submarine, the U-Boat C-Explorer, that holds up to two guests and the pilot. This is an extra charge and it may not be available in all ports due to local restrictions. For a once-in-a-lifetime experience, inquire about renting the 32-foot superyacht tender.
There are no shops aboard Crystal Esprit, but some sundries are available. Nightly entertainment is more casual, with the Cove Lounge available for viewing movies and sporting events. There is also live entertainment with a piano player/singer.
Yacht Excursions
In many ports, guests can choose two complimentary Crystal Adventures: Cultural Adventures and Soft/Extreme Adventures. They are designed to be more unique shore excursions than those offered on other ships. Boutique and/or private adventures may be available for an additional charge, depending on the port.
Important Yacht Information
While Crystal Yacht Cruises can visit ports that other large ships cannot, there are potentially some drawbacks. Because of the shallow draft of the yacht and its size, there are no elevators on board. This means guests who are wheelchair bound won't be able to get around the ship and Crystal Yachts notes all guests should be ambulatory.
And, while there is no specific exclusion for kids aboard, they recommend children should be at least 12 years of age or older to join one of these specialty cruises.
Guests who are sensitive to water movement may find they are more prone to seasickness when the yacht is not in protected waters. Also, one of the benefits of Crystal Cruises bigger ships is the ability to get kosher-certified meals. These are not available on the yacht.
Crystal River Cruises
In addition to the mid-size ships and the yacht, Crystal Cruises also operates several luxury riverboat cruise ships that explore some of Europe's most scenic waterways. Crystal River Cruises ships only hold 160 guests and all suites offer 24-hour butler service.
Good for Solo Travelers
Crystal Cruises is recognized in the industry as being one of the top choices for solo travelers. It's generally agreed that all-inclusive cruises are a wise choice if you don't like constantly signing for stuff, like having to figure out who is going to pay for wine at dinner or a round of drinks. Basically, it is easier for solo travelers to mingle and meet new people without the awkwardness of having to buy each other rounds of drinks.
Mundy Cruising names Crystal Cruises as their top choice for solo travelers because it offers a great mix of onboard activities, classes, and desirable shore excursions. Some restaurants have solo nights, which are great for singles to get together and enjoy one of the specialty restaurants. Probably the biggest draw for solo travelers though is the attractive pricing-Crystal has one of the lowest single supplements, starting at 15% on certain cruises.
CN Traveler ranks Crystal Cruises as a top choice for solo travelers for the reasonable single supplement, but also for the fact that they are the first cruise line to introduce an Ambassador host program. Available on certain sailings, the program pairs carefully screened gentlemen with single ladies who are looking for a dance partner or dining companion.
Awards and Accolades
Crystal Cruises has been nominated for and won a significant number of awards over the years, including world's leading luxury cruise line for multiple years. They were listed as one of the top large ship cruise lines in the 2017 Travel + Leisure readers' cruise ship awards. It placed number one for medium ships with Condé Nast Traveler.
Part of why Crystal Cruises has earned the awards it does is the perceived value for money. Although the cruises are on the higher side, they are a good value for a luxury cruise. No added fees for alcoholic beverages and gratuities already represent significant savings.
Money Magazine named Crystal Cruises the best cruise line in 2016. A lower number of staterooms and a great staff-to-guest ratio keep Crystal Cruises a top pick among cruise consumers. Forbes named Crystal Cruises as one of their favorites too, pointing out what a great niche the cruise line has carved for itself, offering boutique luxury experiences with a good number of the onboard experiences you'd expect to find on a larger ship.
High-End Luxury Cruising
Crystal Cruises is a high-end luxury cruise line well suited to passengers who want to try out different luxury features without moving up the more elite markets of Cunard or Seabourn. With a wide variety of activities and the subtle ambience of exclusivity, this luxury cruise line is a delightful blend of modern mega-ship features and intimate luxury experiences.