Cruise packages can add to the enjoyment of your cruise vacation. Cruises are known for being nearly all-inclusive: the cruise price often includes most dining options, accommodations, port fees, onboard cruise activities, entertainment, and more. Many travelers, however, choose to investigate cruise packages to extend their vacation options with airfare or pre- and post-cruise hotel stays.
Types of Cruise Packages
Depending on the passenger's specific travel needs, there are several types of cruise packages available, including simple airfare additions and extended vacations on either side of the actual cruise.
Airfare Packages
Airfare packages are the most common type of cruise package purchased, particularly because most passengers are not fortunate enough to live within easy driving distance of a cruise departure port. When purchasing airfare through the cruise line as part of a package, the line typically includes roundtrip transfers between the airport and the cruise port, allowing passengers to relax rather than stress over shuttle buses and taxi fees. Another benefit of airfare packages is that if the flight is delayed, the cruise line will work with the airline to get the passengers to their cruise on time. If passengers arrange their own air travel, a simple mechanical problem could have catastrophic consequences for the remainder of their vacation.
Pre-Cruise and Post-Cruise Packages
Pre- and post-cruise packages often involve hotel stays in or near the departure city for up to several days prior to or after the cruise. Depending on the cruise line, there may be options to add attractions and other guided regional sight-seeing as well. Disney Cruise Line in particular has exceptional packages involving resort stays at Walt Disney World in Orlando, Florida, coordinated with cruises from nearby Port Canaveral, and guests may choose a variety of packages of different lengths to create their ultimate getaway.
Alaskan cruises are another type of cruise vacation that offers many pre- and post-cruise package options for passengers. Because the majority of Alaskan itineraries are one-way voyages, guests can add land-based tours to visit spectacular sights including national parks and monuments, allowing them to see far more of their destination than what is visible from the decks of a cruise ship. Holland America Cruise Line has the most extensive variety of cruise package options associated with their Alaskan itineraries, with options to suit any voyage and any budget.
Cruises to Europe also frequently offer pre- and post-cruise packages visiting inland cities and exploring different nations, giving cruise passengers enriching experiences both on-shore and off. Because many European cruises are once-in-a-lifetime vacations (particularly for United States residents), cruise packages may be just a few days or could extend well over a week to visit different locations.
Buying a Cruise Package
Packages are easy to purchase through cruise travel agents or the cruise line itself. While the costs may be somewhat higher than if arrangements were made separately, by purchasing cruise packages travelers also get the convenience of having one entity handle the details, as well as assorted guarantees about availability and compensation for unplanned alterations. Cruise package prices vary depending on the number of passengers, the length of the additional package, and the level of service (often associated with the grade of cabin for the actual cruise).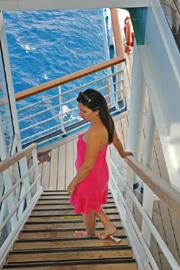 Pros and Cons of Packages
There are several benefits of cruise packages in addition to the convenience and the luxury of extending the vacation beyond just the cruise. Unlike separate arrangements that must either be paid at the time of reservation or periodically throughout the trip in different pieces, cruise package payments can be added to the cruise fare, allowing for one easy payment (or installments if available) to pay for all the arrangements prior to travel. Because cruise packages are arranged in conjunction with the cruise itself, the land-based portion of the vacation may be coordinated with the cruise in terms of types of sight-seeing attractions and themes, giving the entire getaway a cohesive, comprehensive presentation. Furthermore, passengers may only need to deal with paperwork, such as check-in forms or customs declarations, a single time for the entire vacation.Cruise packages are not perfect, however. Because most extensive packages are guided, there may be little unstructured time for passengers to explore their own interests, and the available destinations may be limited. While cruise ships often have exemplary children's programs, those activities do not always extend to land-based packages, further limiting the available options for families. Passengers do not typically get to choose preferred airlines or hotels without additional fees on top of the added cost of the package, nor do they get much choice of flight times.
---
Cruise packages allow travelers to extend their cruise vacation with the convenience of additional airfare and both pre- and post-cruise land vacations. Most itineraries offer at least limited stays in departure cities, and depending on the cruise destination, more elaborate packages may be available to turn a cruise into an extensive getaway complete with resort accommodations, guided tours, and visits to local attractions. Whether on land or on sea, passengers can experience the luxury and convenience of a cruise and associated cruise packages, making their vacation truly unforgettable.