Port of New Orleans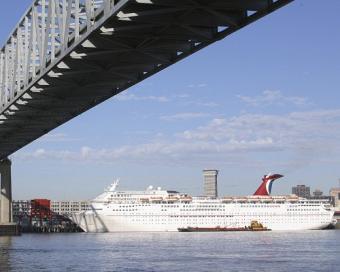 If you're looking for a cruise destination from New Orleans, there are many fun and exciting options to choose from. Both Carnival Cruise Line and Norwegian Cruise Line regularly sail from this bayou port, with a variety of itineraries leading to different areas of the Caribbean and Mexico.
Mardi Gras
Before you set sail, consider spending an extra day or two in New Orleans to sample the city's vibrant flavor and intriguing culture. From the unique vibe of the French Quarter to the annual festivities of Mardi Gras, there are many great events and attractions to experience.
Cozumel
Cozumel, Mexico, is one of the most popular ports when sailing from New Orleans. This small island off the Yucatan peninsula has a fun personality all its own. Cruise passengers can explore the colorful downtown area or try some of the many shore excursions available around the island.
Progreso
Progreso, Mexico, is well known for its fascinating Mayan ruins, including the famed pyramids of Chichen Itza. These great temples are the centerpiece of many shore excursions from this port. Different excursions may also offer shopping tours and unique dining in conjunction with a trip to the ruins.
Key West
Key West may still be part of the United States, but it is unique and interesting in its own way. Cruise passengers can tour Duval Street and its numerous restaurants and bars, take advantage of snorkeling at amazing beaches or visit the end of the island and Southernmost Point, the closest point to Cuba from the United States.
Freeport
The Bahamas is another popular cruise destination from New Orleans. Ships regularly call at Freeport on Grand Bahama Island. Snorkeling, cultural tours, and beach breaks are popular activities here, as well as visiting the Atlantis resort or indulging in a party boat cruise.
Roatan
Roatan is a popular destination in Honduras. It offers cruise passengers some of the most amazing snorkeling in the western Caribbean. Guests can also enjoy jungle tours, beach breaks, and other tropical adventures.
Belize City
Longer cruises departing from New Orleans tour Belize City, which features spectacular architecture and unique tropical ambiance. Shopping tours and cultural highlight guided tours are among the most popular excursions here.
Costa Maya
Costa Maya is a popular port for New Orleans cruises that visit Mexico. Like Cozumel and Progreso, this is a place where passengers can experience the culture, history, and tastes of Mexico dating all the way back to ancient Mayan cultures. Tribal dances and other performances are popular options in these ports.
Guatemala
Cruises departing from New Orleans may call on Santo Tomas de Castilla in Guatemala, though this port is included on only a few itineraries. Nonetheless, cruise travelers that do find themselves here will appreciate the tremendous diversity of wildlife. Many shore excursions offer jungle tours and wildlife watching.
Stay Onboard
When you're sailing between different ports on a cruise from New Orleans, don't forget to take advantages of all the fun activities on the cruise ship. Casinos, wine tasting, trivia contests, revue shows, comedians, gourmet dining, whirlpools, spa treatments, live music, and many more activities are available for all passengers to enjoy.
Toast Mexico
Many cruises departing from New Orleans visit one or more Mexico ports, and many passengers look forward to the opportunity to sample a taste of true Mexico. Margaritas, churros, tacos, salsa, and other regional dishes are prepared fresh at different restaurants and cantinas in each port.
River Cruises
If Caribbean and Mexico destinations aren't what you're looking for in a cruise from New Orleans, consider a river cruise instead. While itineraries vary, riverboats often ply the easygoing waters of the Mississippi River, giving passengers a laid back and relaxing taste of true Southern culture.
Regional Dishes
On both ocean going and river cruises from New Orleans, the cruise ship menu will likely include regional specialties such as gumbo, seafood, and southern desserts. Don't be afraid to try new dishes on a cruise ship – most meals are included in your cruise fare, as well as snacks and room service.
Setting Sail
With so many places to sail from New Orleans, it is no surprise that this southern cruise port is rapidly growing. If, however, you can't find just the right voyage from this extraordinary city, don't be afraid to explore different cruise destinations pictures to find even more exciting ports to visit!