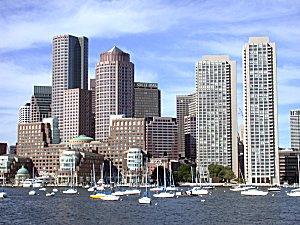 One of the most popular seasonal cruise ports on the Atlantic coast, Boston is both a prominent embarkation port as well as a frequent port of call. With dozens of cruises calling on the historic city, cruise passengers are sure to enjoy the cultural and patriotic heritage of this destination.
Cruises from Boston
Dozens of vessels and more than 200,000 passengers pass through the Black Falcon Cruise Terminal each year between May and November (the northern cruising season). Cruise lines that offer voyages originating in Boston include Norwegian, Royal Caribbean, and Holland America. Cruise lines that feature the city as a regular port of call on different sailings include:
Additional cruise lines, including the European-based P&O Cruises, also feature the city on northeastern itineraries, though prospective passengers should consult a travel agent for details on these infrequent sailings.
Itineraries
With such a range of cruise lines visiting the city, there are a number of different itinerary options for passengers interested in visiting Boston. For cruises that depart from the historic city, there are four major choices: southern Caribbean voyages which may also call on other eastern ports such as Fort Lauderdale, Miami, or the Bahamas; Bermuda itineraries; New England voyages that feature other ports of call in Massachusetts as well as Maine and New York; and Canada cruises that sail along the St. Lawrence River.
In addition to being a popular embarkation port, the city is also a frequent port of call. Voyages that may include the historic city on their itineraries include not only Canada and New England cruises originating from other ports, but also world cruises.
Itinerary lengths for any of these options range from very few nights (4-7) to as long as a month, depending on the overall route and number of ports included.
Visiting Boston
With a rich cultural and historic heritage, there are many attractions to tempt cruise passengers, whether they are visiting the city for just a few hours or they have several days. During the time ships are docked as a port of call, shuttle service runs from the terminal to several popular attractions, and taxi service and other public transportation is always available. Some of the more notable sites include:
Fenway Park is a great attraction for baseball fans.
New England Aquarium: With educational exhibits as well as a myriad of species on display, this is a great attraction for anyone interested in marine life.
Newbury Street: This trendy neighborhood not only includes dining and shopping venues, but also art galleries, day spas, and other luxurious diversions.
Fenway Park: Home of the Boston Red Sox, this attraction is a must-see for sports fans.
Salem: Just outside the city, this village was made famous (or infamous) by the ill-begotten witch trials.
Lexington and Concord: The site of the beginning of the Revolutionary War, these villages often host historical reenactments and other events.
There are dozens of other attractions available and cruise passengers are often privileged to have guided tours, including tracing the path of Paul Revere, taking river cruises, and visiting the John F. Kennedy Library. From history to culture to just plain fun, there is enough to do in this city to occupy any visitor for far longer than a single cruise.
Getting to Black Falcon Cruise Terminal
The cruise terminal is just minutes from downtown, and the Silver Line Waterfront bus and other public transportation is readily available. Passengers arriving from the airport should be aware that they will need to pass through the Ted Williams Tunnel, which charges a $3 toll fee. A five-story parking garage is available at the terminal, with enough spaces that reservations are not required. The parking fee is $14 per day for standard vehicles. There is no luggage storage available, so passengers extending their stay in the city will need to make other arrangements.
Contact Information
For more information about cruises involving Boston, visit the official website, www.massport.com, or contact the port directly at:
Black Falcon Cruise Terminal
One Black Falcon Ave.
Boston, MA 02210
Phone: 617-330-1500