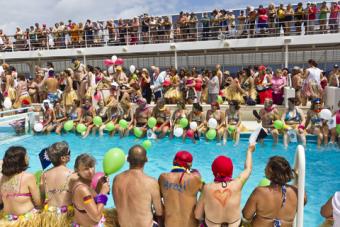 Adult cruise vacations open a new door for exploring the world. Depending on what your goals are, you can select a cruise vacation that gives you the kind of adult entertainment and activities you want.
Overview of Adult Cruises
There are many cruise vacations available that are focused on catering to adult passengers, and each comes with unique opportunities. Here are the major categories you'll find, and a look at what they offer.
Cruise Themes for Adults
Cruise lines offer these cruises throughout the year, and you can sail to a wide variety of locations. All you have to do is pick the kind of cruise you want, and then match it up to a destination that appeals to you.
Cruise Excursions for Adults
Part of selecting an adult cruise is choosing one that offers the kind of excursions you think you'll enjoy. In fact, this is often what makes a cruise so unique and interesting. Here are some excursion ideas you might want to consider.
Adventure Cruises: Mountain climbing, parasailing, and scuba diving along the ocean floor are all adventures you'll find on cruises geared towards adults.
Historical Cruises: Take a cruise down to the Caribbean and see old ships and fantastic Mayan ruins, or head down to the tip of South America to see some of the world's oldest ruins. You can even dive deep into the water to learn about sunken ships. Historical cruises offer great activities for adults to enjoy.
Honeymoon Cruises: Not many ships are geared solely for honeymooners, but the excursions you go on and the resorts you stay at may cater to newlyweds. Book a cruise that offers you a honeymoon suite, as well as excursions you consider romantic.
Whether you select an adult cruise for what's on the ship or what's on the shore, each cruise offers an outstanding opportunity for adults to enjoy themselves.
Cruise Lines That Offer Packages for Adults
Apart from a few themed cruises, most cruise line companies try to cater for all tastes. The selection of cruise lines below highlights companies that offer adult packages and nightlife activities comparable to what you might find in a major city. Some of these ships offer adult-only areas during the day or night, as well as separate areas where children and teenagers can occupy themselves with a variety of activities. Other ships are strictly adults only, so you can choose the cruise that best fits what you're looking for.
Princess Cruises: This line provides one of the best engagement package of any cruise line. After proposing to your future partner on a movie screen prior to the main feature you will be treated to dinner for two and a massage, as well as breakfast in bed.
Holland American Line: HAL Cruise Line gives you a chance to dance with the stars aboard their New Amsterdam ship as you sail to the Caribbean. After a series of complimentary dancing lessons, you will participate in a competition judged by various celebrities that have participated on the popular TV show. The winner is invited onto the Champion cruise, where the overall champion will be decided.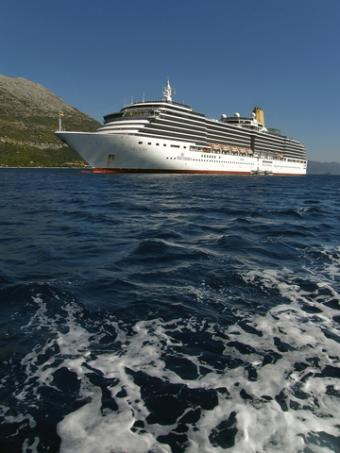 Olivia: In conjunction with Norwegian Cruise Lines, Olivia runs cruises for gay women. On the surface, at least, this cruise doesn't sound as raucous as the gay men's cruise. This cruise includes gourmet cooking classes, and famous comedians such as Judy Gold perform at the ship's theater.
RSVP: From drag queen shows to on deck retro parties and costume contests, RSVP really knows how to run a fun-filled, gay-themed cruise. They've been doing so since the mid '80s.
Carnival Cruises: As befits their name, Carnival has the facilities to suit all late night party goers. You and your friends can participate in this cruise line's legendary pub crawls and beer and wine tasting sessions, as well as entertain yourselves at their award-winning casino.
Singlescruises: On this singles get together, you can meet like-minded single people as you take part in cruise activiities such as speed meetings, pizza parties, and battles of the sexes, all while sailing to such exotic locations as the Caribbean and the Bahamas.
Adriagate: At Adriagate, you'll find cruises that offer naturists/nudists the opportunity to enjoy cruising in the buff as they sail to secluded bays and beaches located all around the Adriatic Sea.
Keep Looking for an Appealing Cruise
The cruise selections above are just suggestions to show you the variety of adult cruises available. Don't worry if you don't see anything to suit your taste. If you can't find something now, you are sure to find an appealing cruise very soon because companies are constantly linking up with cruise lines to provide adult-themed cruises.