10 Ways to Save On Your Next Cruise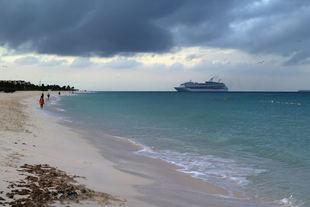 If you have been dreaming of taking a floating vacation, but didn't think you could afford it, then consider not one, not two, not five, but 10 ways to save on your next cruise.
Top 10 Ways to Save On Your Next Cruise
Penny-pinching cruisers don't have to empty their bank accounts in order to pay for a high seas adventure. Just view these 10 ways to save on your next cruise and you can set sail in style without going broke:
1. Book Early
One of the easiest ways to save on a cruise is to buy early. Cruise lines aim to fill their ships as soon as possible to guarantee they are going to make a profit. Consequently, you can score amazing deals by booking your sailing at least six months in advance. In addition to finding phenomenal rates, by booking early you also get the best selection on cabins and you have a better chance of securing your requested dining time. Also, if you book early, and then find that the price of your cruise is reduced, you can contact your travel agent to get a refund for the difference in price.
2. Look For Specials
Many cruise lines including Princess, Celebrity, and Carnival offer "Ship Specials," such as book a 14-day cruise and get seven days free or reserve one full fare booking and get 50 to 80 percent off the second passenger. Other promotions include free shore excursions or a free pre- or post-cruise hotel room. Some cruise lines throw in free luxury items, such as digital cameras worth 500 dollars, if passengers reserve specific sailing date. Prior to booking your trip, inquire about any cruise specials that might coincide with the dates you are planning to travel.
3. Sail Off Season
Deep discounts can be found by sailing during the off-season. Different destinations have a peak season and an off-season. For example, prime cruising time for Alaska voyages is typically June through August. By choosing a September itinerary you can save up to 50 percent on some cruises to the 49th state. Likewise, you can save a bundle by sailing to the Caribbean during its off-season, which is traditionally late April through the end of May.
4. Go With a Group
By traveling with a group of your favorite family members and friends you can qualify for a group rate. Most cruise lines offer savings to groups of eight or more. In addition, the group leader cruises for free. Group discounts are available for:
Religious groups
Family reunions
Clubs
Corporate groups
Associations
5. Buy Your Own Plane Ticket
Skip the air-inclusive cruise packages. Buying your airfare through a cruise line is not a good way to save money. Cruise/air packages are notoriously expensive. Plus, they often offer bad itineraries and multiple connections. To get the best deal available, use the Internet to purchase cheap airfare and book your cruise separately.
6. Take Advantage of Discounts
Take advantage of as many discounts as possible. Cruise lines offer a litany of discounts including:
Senior citizens
Emergency technicians
Public safety personnel
As long as you have the papers to prove your status, you may be able to save a considerable amount of money on the voyage of your choice using cruise line discounts.
7. Get a Soda Card
Purchasing a soda card to use on your cruise will help you save big if you can't live without your favorite carbonated beverages. Most cruise lines sell soda cards for about 30 dollars. The card provides you with unlimited soda throughout your entire cruise. It is far more economical than paying two dollars each time you want a Coke or Pepsi.
8. Book a Future Cruise On a Current Cruise
If you are a frequent cruiser, then you might consider taking advantage of low prices on future sailings by booking another voyage during your cruise. Most cruise lines offer special onboard savings with much lower base prices than you'd find off the ship. In addition, when you book with an onboard reservation specialist, you usually receive higher onboard credits to spend anywhere on the ship.
9. Be Flexible
Being flexible with your travel dates and destinations will help you save a chunk of change on your next high seas getaway. Remember, cruise prices are dictated by demand, so if you don't mind sailing to untraditional locales during off-peak time periods you can take advantage of deep discounts.
10. Book a Repositioning Cruise
Nearly all cruise lines change itineraries after each season. This move results in repositioning ships to different ports. In order to make money on repositioning sailings, cruise lines offer super savings to passengers. Some repositioning cruises are deeply discounted with two-for-one savings, while others offer deals that slash rack rates by 40 to 60 percent.