With the Bell Street Cruise Terminal at Pier 66 and Smith Cove Cruise Terminal at Terminal 91, Seattle is a very popular launching off point among cruise ship passengers. If you are wondering where to stay, there is a cluster of hotels from budget to boutique within three miles and a 15-minute drive of each terminal.
Luxury Hotels in Seattle
If higher end luxury, boutique and historic properties appeal to you, each of these hotels are options that should be considered. Choose from properties on the water, in trendy areas or those that exude historic charm.
Seattle Marriott Waterfront
Located at 2100 Alaskan Way, across the street and just under one mile from the Bell Street Cruise Terminal, Seattle Marriott Waterfront is known for its superb views of the city and waterfront, and its easy accessibility to attractions and cruise terminals. The property has a heated indoor/outdoor pool, modern gym and a restaurant that features modern American cuisine using locally sourced products. It is also close to the Seattle Aquarium, Wings Over Washington, the Great Wheel, Pike Place Market, Chihuly Garden & Glass and the Space Needle.
According to TripAdvisor, this hotel has earned a Certificate of Excellence with over 1,700 reviews. The average nightly cost is $179. Rooms on the higher floors have the best water views and rooms facing the pool on lower floors can be noisy. The Marriott has a cab zone where you can catch a cab to Pier 66 if you don't want to walk. If you are going to Pier 91, book a cab, car service or shuttle with the hotel.
Inn at the Market
If you want to experience a bit of downtown Seattle before you set off or return from a cruise, you might consider Inn at the Market (86 Pine Street), just 0.4 miles or about a seven-minute walk from the Bell Street terminal. Book a cab or private car with the concierge if you are traveling to Pier 91. This trendy boutique hotel overlooks Elliott Bay and is located in the heart of Seattle's vibrant and colorful Pike Place Market.
The Inn at the Market has "awesome" reviews that come in at a 9.4 rating out of 159 reviews. This hotel has also gotten accolades from Conde Nast Traveler and Travel + Leisure magazines. The Inn has four highly rated restaurants that feature breakfast all day, Korean fusion, authentic sushi, and classic French fare. Another highlight is the rooftop deck with panoramic views where guests can sip wine and watch the ferries chug across Puget Sound.
Room rates start at $200 per night, depending on the season, availability and blackout periods.
Hyatt House Hotel
Hyatt House Hotel (201 5th Avenue North) is across from the Space Needle, approximately 0.6 miles from Pier 66 and about two miles from Pier 91. There are eight floors with 172 rooms, many of which have great views of downtown. Expect a full kitchen with a microwave, stove and refrigerator too.
Although there is no swimming pool, there is an exercise room. A perk is the rooftop with a barbeque area where you can grill a burger and enjoy the view. Reviews on Yelp are very positive, citing the complimentary breakfast and excellent location. A free shuttle service will take you to Pier 66; the front desk can arrange transportation to Pier 91 for $10 with Ace Transportation.
Room rates range from $189 to $370 per night.
Kimpton Alexis Hotel
Built in 1901, the Kimpton Alexis Hotel (1007 1st Avenue) prides itself on personalized service. The den-like rooms are tastefully appointed with modern and historic touches, and you can enjoy the evening wine hour daily from 5 p.m to 6 p.m. Centrally located in Seattle's business district between Pike Place Market, stadiums and the waterfront, the property also boasts a full service spa, 24-hour fitness center, one restaurant and concierge services. They also offer loaner public bikes for getting around town.
A favorite among couples, the Kimpton Alexis Hotel is three miles from Pier 91 and about one mile from Pier 66. The hotel will arrange a cab to take guests to the pier where their cruise ship is departing. Nightly rates range from $300 to $645.
Mid-Range and Budget Accommodations
If you are looking for good value for the money check out these properties that range from an architectural gem, and a historic beauty to a chain hotel.
Mayflower Park Hotel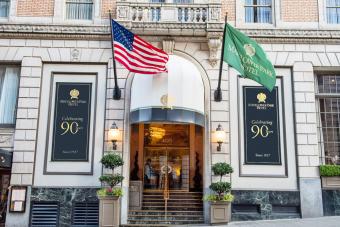 The locally owned Mayflower Park Hotel (405 Olive Way) is 0.5 miles from Pier 66 and within two miles of Pier 91. This historic hotel has been in business for over 90 years and is a gem of classic ambience with traditional Queen Anne decor. Expect all the modern amenities like high speed internet and premium digital TV. The Andaluca Restaurant and Bar offers a menu with a Mediterranean flair and has excellent reviews on Google Local.
This property has also been named as one of the best values in the U.S. Room rates on the website are competitive with online booking services, ranging from $125 to $310 depending on the time of year. For this property, it is best to call the hotel directly or to book online. Cab service is available at the hotel or a shuttle service can be booked with the concierge.
MarQueen Hotel
MarQueen Hotel (600 Queen Anne Avenue North) is a mid-scale, smoke-free hotel in Seattle's lower Queen Anne area. Located 1.4 miles from Smith Cove Cruise Terminal at Pier 91 and about two miles from Pier 66, this classic brick historic hotel was built in 1918 as the Seattle Engineering School. Guests enter through beveled glass doors to a European inspired lobby. Most rooms are notably large, some with kitchenettes. There is no elevator or swimming pool in this three-storey property. A complimentary continental breakfast is available inside the Tin Lizzie Lounge for registered guests and there is also a lovely roof top bar area with views of the city.
It is close to public transportation and has easy access to all the Queen Anne area has to offer, including a three-minute walk to many restaurants and shopping. Guests rate the hotel as very good, noting its attentive staff and proximity to the cruise port. To get to the terminal, guests will have to take a cab or call Uber. During the summer cruise season, the hotel runs a shuttle service to both piers that needs to be booked in advance. Pricing for accommodations start at $110 a night.
Belltown Inn
The Belltown Inn (2301 3rd Avenue) is 0.3 miles from Pier 66 and a seven-minute walk from Pier 91. While there is no restaurant in the hotel itself, there are many close by. Basic amenities include vending machines, a 24-hour front desk, concierge service and a ticket service. Guest rooms feature kitchenettes, large screen TVs, and free Wi-Fi. The Inn also has a rooftop deck with views of the city and its many waterways.
This hip Belltown property is with easy walking distance to Pike Place Market, the Space Needle, shopping and entertainment. With over 1,300 guest reviews, the Belltown Inn has an overall rating of over 8.5/10 on Reservation Counter. Room rates start at $94.
The Inn at Queen Anne
Close to the Space Needle and Nordstrom, The Inn at Queen Anne (505 1st Avenue North) is a good choice for the value-conscious traveler looking for a European styled hotel. This centrally located budget property has 69 rooms with kitchenettes. Rooms come with a pillow top bed and a 32-inch LED television with cable programming. Wireless internet access is complimentary.
Reviews are mixed with many noting that although this hotel is centrally located, some think it is a bit outdated and there is no elevator. According to the reviews, many people departing on a cruise stay here for one night. Both Pier 91 and Pier 66 are about 1.5 miles away. The front desk will set up travelers with a car service that provides transportation to either pier for $7. Room rates start at $69.
Hampton Inn & Suites
Located in the heart of the city, Hampton Inn & Suites (700 5th Avenue North) is a 15 to 20 minute ride to either cruise terminal. It is about two miles from Pier 91 and 3.5 miles from Pier 66. This hotel is also near Seattle Center, the Space Needle and the Seattle Opera. The Hampton offers free internet and a hot breakfast buffet. There is no swimming pool. Earning an Award of Excellence from TripAdvisor, the majority of guests rated their stay as excellent or very good. Room rates start at $98.
Transportation
There is a lot of traffic and congestion at the piers, so it is best to book your transportation before arrival when making a hotel reservation. Most hotels do not offer shuttle service to Pier 66 and Pier 91, and only the Seattle Marriott Waterfront is within walking distance of Pier 66.
All hotels have a concierge or front desk that can call a cab for guests departing on a cruise or make arrangements for transportation via a private car service, Seattle Shuttle Service, or Ace Transportation. Rates range from $7 per person to $52 per person depending on the location of your hotel, the service that you book and the location of the pier you are going to.
Overnight in Seattle
This lovely Pacific Northwest city is vibrant with many neighborhoods, unique attractions and good restaurants. Regardless whether you unwind in the lap of luxury or stay in a quirky downtown hotel, there will be many attractions and restaurants within walking distance to explore. Be sure to book your transportation to the pier when you book your hotel room to avoid missing your cruise embarkation time.