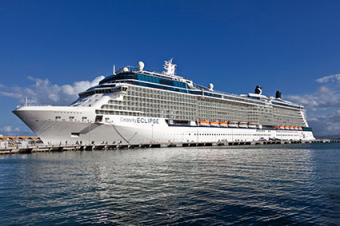 Celebrity Cruises offers fabulous cruise vacations with sailings to exotic locations throughout the world. If you're looking for an elegant, sophisticated cruise experience, Celebrity is a great option to consider.
Celebrity Cruise Locations
Suzanne Klasen, an independent vacation specialist with CruiseOne and Cruise Talk Central blogger explains, "Celebrity offers the traditional 7-day Eastern and 7-day Western Caribbean itineraries, but they specialize in longer cruises that offer 10 and 11-day extended Caribbean sailings and 15-day Trans-Panama Canal/South American cruises that take guests around the cape and even to Antarctica. They also offer a host of sailings in Australia and New Zealand."
Celebrity's itinerary offerings don't stop there. They also sail Alaska's Inside Passage (from Seattle) and offer Transatlantic Cruises, with a Mediterranean Passage itinerary and another that includes Spain and the Canary Islands. Additional sailings include the Galapagos Islands, Asia, Bermuda, Australia/New Zealand, and various European itineraries.
Celebrity Cruise Ships
The Celebrity fleet consists of ten ships, with five Solstice class vessels, four Millennium class vessels and the much-smaller, Celebrity Xpedition, a specialized vessel for Galapagos Islands sailings. Celebrity's Solstice and Millennium class ships are their largest vessels, and both classes offer luxurious accommodations, onboard spa facilities, well-equipped fitness facilities, swimming pools, hot tubs, world-class entertainment, outstanding food and beverage selections and much more. Klasen points out, "All of their ships also feature a forward-facing observation lounge and entertainment venue which offers nearly 180-degree views of the horizon from high atop the ship with comfortable seating and interesting entertainment options."
Solstice Class
The Solstice class ships are the Eclipse, Equinox, Silhouette, Solstice and Reflection. According to U.S. News & World Report, Celebrity debuted this line with the Solstice in 2008, adding the other ships since that time. These mega-vessels each carry at least 2,850, with the newest ship in the family accommodating almost 3,050. Features unique to this class of ship include a top-deck lawn club with real glass, as well as the Corning Hot Glass shows, during which skilled artisans craft blown glass pieces at sea.
Millennium Class
The Millennium class ships are the Constellation, Infinity, Millennium and Summit. They are a bit smaller than the Solstice class ships, accommodating between 2,158 and 2,170 passengers (according to U.S. News & World Report) but are just as beautiful and luxurious. The Millennium was the first ship in this class, debuting in 2000, but was updated in 2012 to stay "on par with its Solstice-class siblings." All the Millennium class ships have been similarly updated since being placed into service.
Celebrity Xpedition
The Celebrity Xpedition is used only for Galapagos Islands sailings. Much smaller than the other ships, this vessel is really a giant yacht. It accommodates only 98 guests and was built to allow for exploration of the Galapagos Islands, which are known as one of "the 10 most pristine places on earth." You'll find Galapagos National Park-certified naturalists staffing each sailing, who serve to help ensure the preservation of the archipelago while also educating passengers about the destination's beauty and significance.
Is a Celebrity Cruise Right for You?
AvidCruiser.com indicates that "style" and "modern" are two of the best words to describe Celebrity cruises. According to Klasen, "Celebrity caters mostly to middle-aged to retired professionals." She explains, "I have clients who are teachers, doctors, engineers, military officers, investment professionals, business owners, executive secretaries, city planners, sales people, and their families all love Celebrity." She states, "I would highly recommend any of the 7-day Celebrity cruises to the Caribbean over other lines who offer the same itinerary for someone who can only take a week off work but still wants an enriching, sophisticated and pampering cruise experience."
Food & Wine
Food and drinks are often among the first things that people think about when considering taking a cruise, and this is an area where Celebrity really excels. According to Klasen, "Usually those with a love for gourmet food and wines really love Celebrity."
She explains, "Celebrity has a very sophisticated food preparation and delivery program that ensures that what arrives on a guest's plate is consistent, high-quality and the right temperature. There is attention to detail in each step of the food preparation starting with how it is stored and finishing with how each plate is garnished."
Klasen points out, "Celebrity has updated their fleet with some of the Solstice class food and beverage features being incorporated into the smaller ships including the Cafe Al Bachio, Specialty dining venues, and even a new urban-style "Rooftop Lounge" being installed soon on the Summit and other similar-sized ships."
She adds, "If you are a wine lover, no matter the destination, Celebrity is a great choice. Celebrity has the most extensive staff of certified Sommeliers at sea, who can help with selection and enjoyment of their vast choices of wine."
Other Key Features
Klasen touts several key features of Celebrity Cruises that many passengers will find to be advantageous.
Klasen on a Celebrity Transatlantic Cruise

Customized perks program: Klasen likes Celebrity's Go Big, Better, Best perks program. She explains that this program "allows guests to always choose one perk and then add more make the cruise as all-inclusive as they want it to be." She states, "For those who like to imbibe a little more on a cruise because they are on vacation and don't have to drive, the beverage package can be a huge money saver. For those who don't drink alcohol at all or very little even when on a cruise, have the On Board Credit which can help pay for other indulgences like specialty dining or shore excursions."
High levels of customer service: Klasen states, "Not only does Celebrity provide very attentive service, but their employees are empowered to do things and make it a great cruise experience for their guests."
Sophisticated, upscale atmosphere: Celebrity's atmosphere "attracts mostly professionals and retired professionals who want a more meaningful, elegant and attentive cruise experience," says Klasen. She continues, "If those sound like the people you want to sail with, it is a perfect fit."
Not child-focused: According to Klasen, on a Celebrity sailing, there generally are "not too many kids, but kids that are on board are generally well attended by either their parents or the youth program." She states the children that are there "tend to be well-behaved children who are mature enough to enjoy fine dining and sophisticated entertainment."
Not crowded: "Celebrity ships offer a very high space-to-passenger ratio so that passengers rarely feel crowded," says Klasen.
Enrichment: "Celebrity is also great for those who love to travel to enrich their lives," states Klasen. She explains, "That's because nearly every sailing offers enrichment lectures about the history and wildlife of the destination and excursions that are designed to immerse travelers fully in the culture of the destination."
Limitations
Celebrity is not the right cruise line for everyone. For example, since the cruises do not tend to be child-focused, they may not be the best option for young, active families. Klasen shares information about vacationers who might not find this cruise line to be a good fit for their needs. She indicates:
Celebrity may not be a good fit for those who want a casual cruise as they still have two formal nights.
It might not be a good fit for those looking for a 24-hour party atmosphere. Though there is plenty to do, it is a little more subdued.
It might not be a good fit for families on a tight budget as the 3rd and 4th person price tends to run about twice what some of the entry-level cruise lines charge.
It might not be a good fit for those wanting an amusement park atmosphere with ice rinks, roller rinks, mini-golf or water slides, which are offered on Celebrity's sister line Royal Caribbean or their competitor, Carnival.
Reviews of Celebrity Cruises
Celebrity cruises receive high marks on CruiseCritic.com, where the vast majority of reviewers have great things to say about cruising with this company. In their reviews, passengers describe the ships as "excellent" and praise their cleanliness, food, knowledgeable crew, entertainment options and more.
An expert review on CruiseLine.com also has positive things to say about the cruise line, indicating that it attracts those "who want style and comfort without luxury-line fares." They do point out a few drawbacks, including separate charges for dining in specialty restaurants (separate from the main dining room, the buffet and other included dining options) and some fitness classes.
The cruise line also gets high marks from U.S. News & World Report from passengers and experts alike. The publication ranks it among the top five cruise lines for romance and Caribbean sailings. It does not rank as high when it comes to looking at cost, which is not surprising since the line's focus is not on being among the cheapest available options.
Choosing Your Cruise
If you are in the process of selecting a cruise, do your research before deciding if Celebrity is right for you. Klasen recommends, "Work with a travel agent who either has sailed with Celebrity or is at least familiar with their ships. There are some cabins that are better than others and a travel agent who has experience with Celebrity can help your not only help you determine if Celebrity is a good fit for your personal style and sense of luxury but can also find you the best deal on price and amenities."
Celebrity Cruises Jobs
If your interest with Celebrity lies with employment opportunities, you can get a sense of what might be available and how this cruise line approaches hiring by visiting CelebrityCareersatSea.com. You'll also need to spend some time investigating what's involved in applying for cruise ship jobs.