Vibrant Life and History
Most Eastern Mediterranean cruises to Greece and Egypt offer a variety of activities that spotlight the region's ancient history and antiquities. In addition, passengers are treated to luxury accommodations onboard floating resorts. The upscale sailings also offer access to popular beaches and upscale villages along the coastline.
Athens
One of the most popular cities on a cruise of Greece is Athens. It was the ancient seat of world power and culture. Excursions to this port often include tours of museums and Victorian-era food markets. You may also sign up for a shore excursion to Syntagma Square or some of the ancient ruins in the area.
Cairo
Sailings to Egypt typically include a stop in Cairo, the second largest harbor in the area. Cruise ships frequent the port because if its proximity to the Pyramids of Giza. Other noteworthy stops include the National Museum and the downtown area which is filled with shops and restaurants.
Alexandria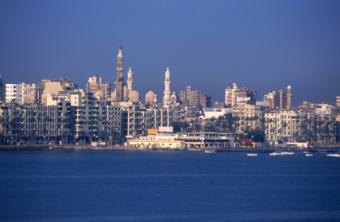 Alexandria is another Egyptian port of call for Eastern Mediterranean cruises. It is not as popular for cruise ships as Cairo, but it still offers an array of tourist hot spots. If you get to visit, head to Corniche, a long boulevard featuring beaches and ancient ruins. You may also wish to visit the Bibiliotheca Alexandrina, a waterfront building that has an impressive collection of historical books.
Greek Island Tours
An Eastern Mediterranean cruise of the Greek Isles is a dream vacation for many people. Highlights include a tour of Santorini to see its volcanic cliffs and the ancient villas on Mykonos. Katakolon is another popular cruise port. It is historically significant as the place where the Olympics were born.
Starting and Ending Cruise Locations
Eastern Mediterranean cruises may span into western portions of Greece and Egypt depending on the time of year you travel, the cruise company you select, and your point of embarkation . Many cruise lines depart from Genoa, Barcelona or Rome and make stops in a number of tourist-friendly Mediterranean destinations.
When to Visit
Most Eastern Mediterranean cruises to Greece and Egypt take place during the spring, summer and fall. If you have flexibility in your schedule, you are better off traveling during the spring or fall, as the temperatures are more tolerable than in summer.
Why Visit
The region's rich history makes the Eastern Mediterranean an ideal place to cruise. The Mediterranean Sea has long been an important transportation route for some of the world's oldest cultures. As such, cruisers are treated to amazing views of ancient ruins and historically significant sites that dot the coastline.
For more on cruises to Egypt and Greece: