4 Day Cruises from New York
While there is only one four-day cruise leaving from New York as of July of 2014, it is a terrific voyage to consider. There are also a few offerings for sailings departing from the New York City area that are slightly shorter or longer.
Four-Day Sailing on the Carnival Cruise Canada Tour
Carnival Cruise Line's Splendor offers four-day trips from Manhattan's New York harbor to Canada. With an average price just under $500 per person for an inside cabin, the four-day round-trip voyage provides a relaxing escape from the urban jungle's heat and humidity.
Route
The Splendor sails north with a port stop in Saint John, NB Canada. The city's charming Victorian-era architecture and large central market make a walking tour a perfect choice for exploring on your own. If group tours are easier, the ship anchors in the Bay of Fundy, so relaxing water kayaking and hiking are popular shore excursions. As an added bonus, select autumn sailings are extended to five days to include a stop in Halifax, NS Canada.
The Ship
This large 3,006-passenger vessel is a true original; it's the largest in the fleet and the only one of its class. "Splendid things" is the ship's overall decorating scheme, and according to Cruise Critic contributor Ellen Uzelac, "Let's just say there is nothing understated about Splendor. Understandably, some passengers have nicknamed it the Pink Ship. Decor notwithstanding, Splendor has great bones and a festive spirit."
Onboard Amenities
The Splendor features a host of exceptional amenities, including:
Spa rooms: Carnival debuted spa cabins on decks 10 and 11, with a glass elevator leading to a 21,000 square foot Pan-Asian inspired spa. Spa rooms allow access to free fitness and yoga classes, premium appointment times for services, fancy toiletries, and fluffy robes.
Dining: For overall dining, Cruise Critic gave the Splendor 4 out of 5 stars. Passengers have over 20 dining and lounge options. Foods range from daily brunch on deck all the way to a master chef's dinner and galley tour. Drink options include a bottomless bubbles soda card and a per-person alcoholic beverage package.
Activities: Onboard activities run an amazing spectrum from dance classes on the Lido deck to concerts in the theater, a supper club, lounges, an arcade, a casino, and a DJ-infused nightclub. There is even a Club O2 lounge for teens.
Other Short Cruise Options
If the one four-day option available doesn't meet your needs, there are some other options to consider departing from the New York area for a short vacation.
Three-Day Cruise on Norwegian's Breakaway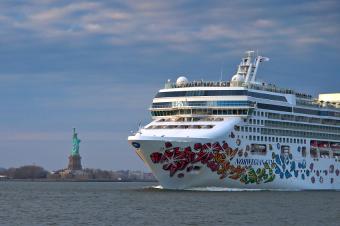 Norwegian Cruise Lines (NCL) offers three-day/two-night cruises to nowhere aboard the Breakaway. The Breakaway, one of the newest, largest, and grandest ships in the NCL fleet, hosts a handful of sailings departing from New Jersey from December through February. This ship makes a similar loop, giving guests an opportunity to experience the new ship in person.
Five-Day Cruise on Cunard's Queen Mary II
In July of 2015, Cunard's five-star rated ship the Queen Mary II will offer a five-day, round trip sailing with port stops in Halifax, Nova Scotia in Canada and Boston Massachusetts. Halifax plays an important role in the founding of Cunard cruise lines, so the trip is treated like a homecoming. This is a rare treat from a top-rated ship which usually focuses on international cruise ports and much longer sailings.
Five-Day Cruise on RCL's Explorer of the Seas
A five-day getaway from Royal Caribbean Lines (RCL) is an incredible deal for East Coast snowbirds who can't survive the winter months without a quick taste of the tropics. From May to October 2014, the round-trip voyage on the Explorer of the Seas sails from nearby Bayonne, New Jersey. This round trip sailing includes one overnight stop in Kings Wharf, Bermuda. In addition, RCL offers some spectacular eco-adventure shore excursions to compliment the short sailing. In 2015, this itinerary continues on RCL's Freedom class ship the Liberty of the Seas.
Six-Day Repositioning Cruise on the Celebrity Summit
The Celebrity Summit repositions to San Juan, Puerto Rico from Bayonne, New Jersey annually in mid-October. The six-day, one-way sailing includes port stops in Philipsburg, St. Maarten, and Charlotte Amalie, St. Thomas before ending in Puerto Rico. The Summit's usual itineraries are strictly seven-day sailings to Bermuda and the Southern Caribbean. This is a perfect opportunity to see unique ports aboard a very popular ship at a reasonable price, although you will have to arrange airfare back home. The Summit debuted in 2001 and received an extensive makeover in 2012.
Booking Tips
Departing from New York is extremely attractive for residents living in the northeastern portion of the United States. Due to the city's close proximity to three major airports, many travelers jump at the chance to sail from New York-area ports. These shorter cruise vacations may only be offered a handful of times per year, and the prices are quite reasonable since the four-day sailings are shorter than traditional week-long voyages. Due to the limited selection and affordable prices, it's a good idea to book right away once you find an itinerary that fits your schedule.