Take a cruise from one of several New York cruise ports to visit the Caribbean, New England, Canada and Britain, as well as some popular European travel destinations. While you're at the ports, be sure to check out the shopping, dining, and history as well.
Overview of New York's Cruise Ports
There are three New York cruise ports, if you count the one in Bayonne, New Jersey. That port is often considered an extension of the New York ports because of its proximity to the Big Apple.
Manhattan
New York's Manhattan port is located on the Hudson River, just a mile away from Times Square and Central Park. Weekends in the area can be cramped because of the heavy traffic resulting from several cruise ships leaving around the same time, so leave early to make it to your cruise on time.
Cruise lines that sail from Manhattan include:
Norwegian - Destinations include such places as Bermuda, the Bahamas, and Canada/New England.
Carnival - Destinations include Florida and the Bahamas, New England and Canada, and a cruise that stays right in New York.
Holland America - Destinations include New England and Canada.
Parking
Paid parking is available above the piers where cruise parking rates start around $35 per night for up to ten nights. Extended parking is also available for about $350.
Sightseeing
While you're in Manhattan, be sure to check out Broadway, the museums, the nightclubs, and the restaurants.
Brooklyn
The Brooklyn Bridge is little more than a mile north of the Brooklyn cruise terminal. The Brooklyn cruise terminal was built in 2006, so it's much newer than the Manhattan one, which was built in the 1930s.
Two main cruise lines sail from the Brooklyn port:
Princess Cruises - Visit the Panama Canal en-route to Los Angeles, California, or enjoy passage to Canada and New England.
Cunard Line - Travel to England.
Unfortunately, there aren't many accommodations at the Brooklyn terminal building. Passengers are limited to the essentials, such as bathrooms, seating, and vending machines. However, the views are great.
From the Brooklyn cruise terminal you can see:
Staten Island
The Statue of Liberty
Upper New York Bay
Lower Manhattan
Governors Island
Parking
Paid parking is available on the south side of the terminal, where the overnight rate runs under $25 per day. If you prefer to avoid leaving your car at the terminal, use a Brooklyn car service pick-up or taxi instead.
Sightseeing
While you're in Brooklyn, check out Coney Island, the Botanic Gardens, or the Brooklyn Museum.
Cape Liberty, Bayonne, New Jersey
The Cape Liberty cruise port is located in Bayonne, New Jersey, on the New York Harbor. It's only seven miles from New York City and offers easy access to popular shopping and dining areas.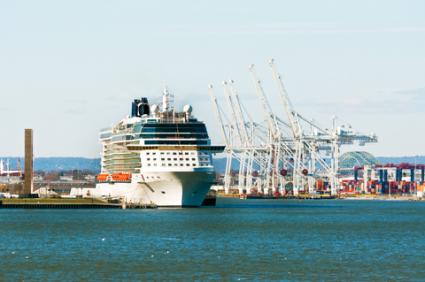 Cruise lines departing from Cape Liberty include:
Royal Caribbean - Destinations include exotic port of call in the Bahamas and the Caribbean.
Celebrity Cruises - Sail to King's Wharf, Bermuda.
Parking
There's plenty of parking at the port terminal, so you don't need to worry about your vehicle while sailing. Rates run just under $20 a day.
Sightseeing
While in port, consider visiting the Statue of Liberty or Ellis Island.
Book Now
Booking a cruise ship is not like booking an airplane. The dates you leave are more or less dictated to you by the cruise line. If you want a place on any of the above cruises, plan your trip thoroughly and book as soon as you can so you're sure to set sail on the exact cruise you've always dreamed of.