Cruises for People Over 50 Years of Age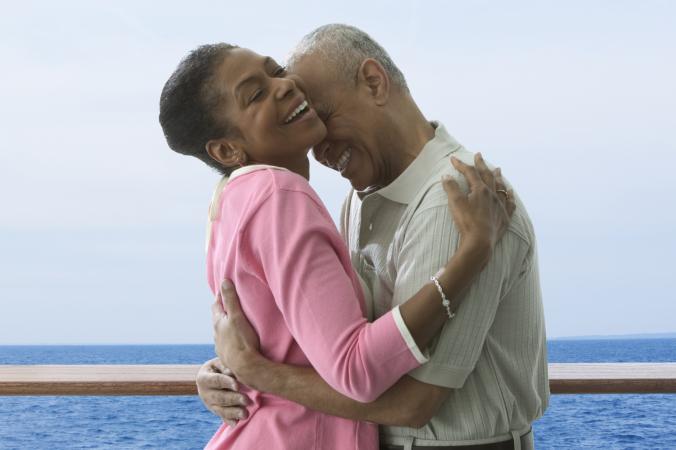 Cruises for people over 50 years of age are a great way for seniors to meet new people with similar interests and enjoy customized events just for them. People over 50 represent a large portion of those who enjoy cruises. Some are interested in going with friends, while others can take advantage of singles cruises.
Types of Cruises for People Over 50
There are cruises for seniors that travel to Alaska, the Caribbean, Canada, Asia, and more. Each features enriching activities designed with those over 50 in mind.
Singles
If you're single, you're not necessarily stuck paying the price for two simply because the rooms are designed for more than one person. If the cruise line you're interested in using has a singles share policy, you can be matched with a roommate based on your gender, smoking preference, and age. These types of sailings allow you to make a new friend and save some money at the same time.
Couples
When you take a cruise with a spouse or friend, you won't have to worry about chasing down special singles discounts or taking a chance on a roommate. You should unpack together so you have a better chance of remembering where everything is in the cabin's drawers and cubbies. Go ahead and take a look at the map of the ship or take a stroll around the deck together so you know where events you're interested in attending will be held. Between the two of you, you should be able to comfortably navigate the ship in no time, making your time there more pleasant and less frazzled.
If you want a romantic setting, there are adult couples only cruises. Singles and families are not allowed. The overall feel of this type of sailing is very romantic. These cruises are perfect if you want to celebrate an anniversary or you're starting a new relationship and just want to get away together.
What to Expect
Seniors are very active and cruise lines know it. You'll find so many options, you might even feel overwhelmed at first. Want to learn the Tango or make pottery? Would you prefer cruising to Alaska rather than the beach? Seniors make up such a large portion of people who enjoy cruises that companies cater to their needs and wants. In fact, you can also notify the cruise line in advance of special dietary restrictions you follow, so meals can be made to fit your particular lifestyle.
If you go on a seniors' cruise, there's a good chance you'll find yourself free from families with small children. You can expect a quieter trip than you might otherwise find on traditional cruises, with more activities tailored to a mature set. What's more, since cruise lines don't have to put skating rinks and other kid-friendly activities on-board, cruises for people over 50 years of age will quite often be on smaller boats. You'll also have less deck space to travel across and less clutter from activities that aren't designed with seniors in mind.
Finding Cruises for Seniors
7 Blue Seas makes it easy to locate cruises for seniors. The site lets you narrow down your options by departure point, cruise line, duration, area the cruise covers, or special interest like food and wine themes. There is also a FAQ section with answers about what to look for in a cruise, what to avoid (for example, high prices are generally a hint that it will be a party ship), which cruise lines are recommended for seniors, and more.
Discounts
Don't forget to check around for senior citizen discounts if you're eligible. If you're between 50 and 54, you may not be eligible for special discounts for seniors. If you are 55 and up you can typically get better rates. In some cases, you may be able to combine an AARP discount with an early-booking discount; it never hurts to ask. Keep in mind you may have to use an AARP travel agent in order to secure such a deal.
Final Thoughts
When you take a cruise for people over 50 years of age, you can expect healthy dining options, relaxing games, an opportunity for enrichment of the mind, beautiful scenery, and more. You can make new friends who share your interests, even saving money by being paired up in a cabin with another single if you're cruising alone. There are also discounts available for people over 55, making a cruise an even more tempting idea if you've been waiting for years to take the perfect vacation.